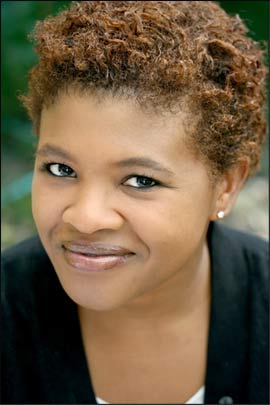 Reading a great book is perhaps one of the best feelings in the world – the intrigue that comes when you get to know interesting characters, the gripping excitement when the action on the page keeps you from sleep, the release when there is a satisfying ending. Perhaps even better than reading a great book, is trading words with a great writer and delving deeper into how she weaves her stories. DopeReads had the pleasure of interviewing such an author, Attica Locke, who penned one of best books of 2012 ("The Cutting Season"). Peep below to see what she had to say about writing, race, and the future black literature.
—
DopeReads: You came to novelling via screenwriting – and based on the fast paced nature of the book, it's clear that your expertise was well served in a new form. What was the transition like from writing for screen vs. writing for the page and what is your process?
Attica: I was a screenwriter for a long, long time – over ten years.  I worked steadily and was well-paid, but not one of the scripts I was working on ever got made.  It was maddening after a while.  I started having an existential crisis.  Who was I writing for?  A bunch of studio execs, half of whom don't actually read the scripts?  I went into a bookstore one day and started reading the first page of novels, just picking them up, reading the first page, then moving on to another book, and by the time I left I said to myself, "I think I could do this."  Being a screenwriter for so long definitely gave me a pretty good sense of pace, and it also taught me how to leave some things unsaid.  Probably the biggest difference between the two processes is that with novel writing I'm more willing to start without an outline or even a very clear sense of where the story is going.  With my first book, Black Water Rising, I didn't know "who did it" when I started writing.  I still outline, but I only outline in small chunks as I go along.  I don't sit down and try to plot out an entire book before I start writing.  Jane Smiley, whom I adore, says, "Writing is writing.  Writing is not planning."
DR: Sense of place was crucial in "The Cutting Season". How have your Texas roots influenced the novel?
Attica: I had a lot of nerves writing about Louisiana, worried that I wouldn't get it right or that I hadn't earned the right to write about the place.  But the truth is, East Texas, where my people come from, and rural Louisiana are like fraternal twins – not quite the same, but deeply connected.  New Orleans, of course, is its own thing, and if this novel had been set in New Orleans, I'm not sure I could have pulled it off.  That city has to get into your DNA for you to be able to write about it from the inside.
DR: One of the themes that stood out in "The Cutting Season" was labor. Why did you think it important to explore the historical labor context of harvesting sugarcane (black & white) along with the current context (black, white, and Latino)?
Attica: I think it's another way of addressing where black people are right now.  In the book, Caren has arrived in the "big house," but it feels empty for her, and part of the reason is that she can look out the window of her office and see a different group of brown people working in the fields.  I think economic ascent is complicated for black folks because we are blessed and burdened with the question of who is coming up with us.  How far has this country truly progressed if out in the fields now there's a different group of brown people who are holding up an economy but are not able to participate as full citizens?  Sounds real familiar.  It's interesting to hold the tremendous growth of this country against the work still to be done.
DR: How has having a racially blended family influenced your work, if at all?
Attica: It's influenced my writing only in the sense that it's influenced my world view.  Being a parent of a bi-racial child (who has no idea there's ever been a President besides Barack Obama) has necessarily challenged me to not hold on too tightly to the"hard and fast" rules about race in America that I was taught.  I am highly invested in raising her to thrive and survive in the country she's actually living in, not the one I was raised in.
DR: Where do you see African American/multicultural literature going in the next 5-10 years?
Attica: My hope is that we are in or are on the verge of something similar to the literature that came out of the Harlem Renaissance, a literature that exactly spoke to what was happening emotionally, politically and economically in the lives of black folks in that moment.  I hope for more literature that speaks to where we are right now.
DR: Are you working on anything new?
Attica: Yes, another novel with Jay Porter
DR: Who are your favorite authors/what books are you currently reading?
Attica: I'm actually reading Michael Connelly's first three Harry Bosch books, but I'm purposefully reading them in a different order.  Number two first, then number one, then the third book.  Since I'm technically working on a "sequel" to Black Water Rising – even though I hate to call it that – I thought it was useful to study how he handles the continuity of his main character against letting the character grow or change with each book.
I love, in no particular order, Pete Dexter, Toni Morrison, Jane Smiley, Larry Brown, Michael Chabon, Dolen Perkins-Valdez, Tayari Jones, Colson Whitehead, Donna Tartt, Dennis Lehane, George Pelecanos – and many, many more.
*This interview was edited for flow.